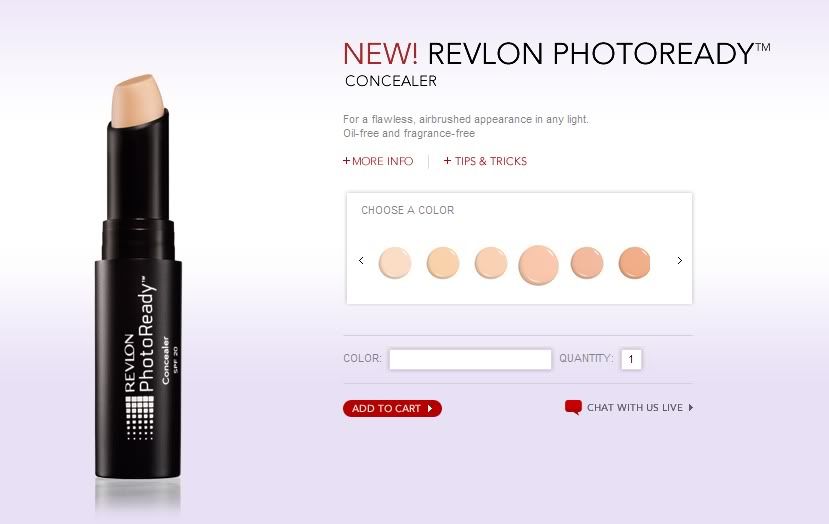 what is it?
For a flawless, airbrushed appearance in any light.
Oil-free and fragrance-free
All over face concealer helps erase imperfections and camouflage dark undereye circles
Full yet undetectable coverage
Photochromatic pigments bend, reflect and diffuse light
product link

price/availibility
$8.99 - $10.99
at drugstores, mass retailers, and Ulta
things to rave about
Natural Looking:

"At touch this concealer feels very moisturizing. It looks very natural during daylight and didn't enhance my wrinkles" by misvox2
Doesn't Settle into Fine Lines:

"This the creamiest concealer I have ever used, yet it does not settle into my fine lines around my eyes." by princess101
Blendable:

"It has a very great creamy texture, perfect for blending over blemishes scars and dark circles." by crmalesa
Convenient Packaging:

"I love the stick format for being so convenient, and if you think it's unsanitary to put the stick on your face you can just put the product on your clean fingers and then your face. The packaging is simple, sleek, very sturdy, and I love the weird shape of the actual concealer, it's pointed on one end and round on the other. It makes it easier to use." by mlq490
Unique Texture:

"

T

he texture is what makes this so unique. It's creamy, not waxy or hard like many stick concealers, and this just glides on the skin delivering great (but not the fullest) coverage. I like to take the stick and just slide this over my skin then use my finger to blend it in. And this blends in soooo easily with the warmth of your finger." by kat2004
Long Lasting:

"The staying powder of this concealer is fantastic as well, working long hours in a bar I need something that will stay put for up to 10 hours, this never fails and it doesn't sink into lines and creases, it's a very good formula, cudo's to you Revlon. In fact this concealer often outlasts my foundations." by tamrak
Light to Medium Coverage:

"Not super heavy coverage, light to medium, but covers well and you can build up the coverage. I use it under my eyes, on red marks, etc. It manages to conceal while still looking natural." by SHuest
Good for Sensitive Skin:

"Never has broken me out, made blemishes concealed with it worse, or caused me any skin problems." by thathoneydip
things to rant about
Glitter:

"As soon as I stepped out into the sun or just my bathroom, I noticed when I was standing in bright light, my face was not glowing, but sparkling. As if someone had poured a pot of glitter all over my nose and cheeks! Its barely noticeable when you swatch this product or apply it on your face, but man you can't miss it in the sunlight." by 4073
Sheer:

"I found this concealer to be very sheer in coverage. Even with an under eye corrector, I still needed about 3-4 layers to cover circles. With skin blemishes, I needed 2 layers." by zlovely
Dark Color Selection:

"Color Selection isn't the best. Colors all lean very yellow and run dark. For reference, Medium resembled dijon mustard on me. I had to pick up the light-medium shade." by slippingbeauty

is it for you?
YES:
Want a lightweight, natural concealer that lasts all day
Have few blemishes and mild under eye circles
Have sensitive, breakout-prone skin
NO:
Dislike glittery/sparkly makeup
Very fair skinned and cool toned
Have major discoloration, redness, blemishes, and under eye circles
ratings
61%

would buy again

package quality:

4.0 of 5
price: $$